There are few things more satisfying in sailing than seeing that big, colorful kite moving your boat along in a breeze no stronger than a breath.
On top of helping you win trophies, the spinnaker can often be the deciding factor between sailing or running the engine, and for a sailor who regularly sees light conditions, a Spinnaker or Code Sail should be an essential item of the sailing wardrobe.
But since you are reading this article, we can assume that either you have already joined the ranks of spinnaker flyers and you are looking to replace an old sail or add to the collection. Or you have heard the hype and you have decided to purchase your first light-air sail and get in on that sweet fine-weather sailing. Whichever you are, you are on the right track.
So, let's talk sailcloth, for, in combination with good sail design, and skillful sailmaking, it is choosing the right sailcloth that will ensure that you end up with a sail perfect for you.
In this article we will discuss how your boat and sailing application affects your choice, what materials and constructions are available, and how much the weight really matters. And in the end, I will give you a list of 5 sailcloth manufacturers to help you get started on your catalogue exploration.
What to Consider when Choosing Sailcloth
Spinnakers, Gennakers, Screechers, and Code Sails all fit into the category of sails that we will be discussing in this article. What they all have in common is that they are light-air sails designed either for downwind sailing or, in the case of Code Sails, to fill the gap between downwind and upwind sailing.
But, before we dive into the complex world of sailcloth, there are a few things that are worth considering that will help you find direction in your search.
Boat Size
First, it is important to consider the size of your boat, as this is going to play a big role in determining the strength and weight requirements of the sailcloth.
Sailing Application
Secondly, you need to consider the type of sailing for which the sail is to be used. Are you an avid racer looking for the most advanced technology to outshine your competitors, or are you a blue water cruiser looking for a spinnaker to cover you on your next ocean crossing?
Wind Range
If you are going to have only one light-air sail onboard you will probably go for an all-round spinnaker suitable for a wide range of wind speeds. But if you are a racer accumulating a good collection of sails to cover more specific wind conditions you will most likely go for a more specialized sailcloth.
Cost and Lifespan
The cost of sailcloth ranges a lot and considering your budget will significantly help narrow your search. Furthermore, bear in mind that premium sail is not necessarily the sail that will last the longest, as many race cloths favour weight over longevity. And it is common for a professional racer to change out spinnakers as frequently as once a year.
Sailcloth Material and Construction
Because of the spinnaker's exaggerated three-dimensional form and the need for keeping the material as lightweight as possible, it is much harder to make than flatter sails such as jibs and mainsails, and even with the manufacturer's state-of-the-art cloth-making technology the type of cloth is limited.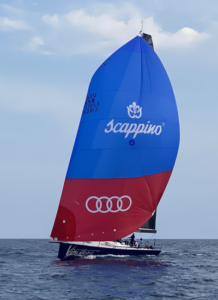 Woven Nylon or Polyester
Woven fabrics are by far the most common cloth construction for light-air sailcloth. This is mainly due to their lightweight quality and perhaps also a lack of good alternatives.
The technique of adding extra yarns to the weave, making the fabric ripstop renders even more tear resistance to the cloth.
Nowadays the most common fiber used in woven sailcloth for light-air sails is Nylon, because of its very light weight, superior tear strength, and good value for money. It is a little stretchier than alternatives like polyester, but although too much elasticity can result in lost sail shape over time, a little is good for absorbing shock loads when dealing with downwind sails.
Polyester (Dacron) is still one of the most used materials in the making of woven sailcloth and is sometimes preferred over nylon for making asymmetric and reaching sails such as Code sails when better shape retention is desirable.
But no matter the material, one of the challenges when working with woven fabrics is to minimize the stretch caused by the crimp (the "zigzagging" off the weaving yarns passing over and under the running yarns). To minimize this effect, as well as to increase durability and water repellence, woven sailcloth is chemically treated, usually with a melamine impregnation or polyethene coating.
One of the final steps in the cloth-making process is heat shrinking when the coated weave is put through a hot press. This tightens the yarns, pushes the coating right into the weave, and presses the material flat, ensuring that the finished product has zero porosity.
Laminates
Laminate sails is a different world all together, and within this category there are several variations in both building techniques and materials. But laminates, generally speaking, are any sail constructed using fibers or a woven scrim, usually made from polyester, Technora or carbon, sandwiched between two taffeta layers.
Laminates typically outperform woven sails by using fibers that stretch less, virtually have no crimp, and can be aligned more effectively to bear the loads placed on the sail.
Due to their superior durability and shape retention, these sails are especially popular with the racing crowd. But traditionally cruisers have avoided laminates because of their high price and poorer longevity. While a woven Dacron sail may last for 10 years, its laminated counterpart may only last 5-7. This however is changing, and many cruisers have started to see the value in the supreme shape retention granted by laminated sails.
Laminates are not commonly used for spinnakers, as manufacturers are yet to create a laminate sufficiently light to compete with the woven constructions. It is however a rated construction for code zero sails, where extra shape retention is more focal. 
How Important is Weight?
Weight plays a big role in light-air-sail efficiency and to the devoted racer, it is often a question of how far it can be pushed. But although lighter is often faster, it is only until it rips.
To the cruising sailor, less weight aloft will make a voyage more comfortable, but durability, longevity, and affordability will be the primary concerns.
Sailcloth is commonly measured in ounces and for light air sails range from about 0.4oz to 2.2oz, the latter being a storm spinnaker or heavy weather Code sail.
A common choice for both cruisers and racers who want a lightweight sail with a decent windspeed range is a 0.75oz sailcloth which is good for up to 15 knots of apparent wind.
Who Makes the Right Sailcloth for Me?
When it comes to light-air sailcloth two major manufacturers dominate the market worldwide: Contender Sailcloth and Bainbridge International. But below I will introduce 5 manufacturers giving you a broader outlook on the market selection.
Contender SailCloth
Contender Sailcloth based in Holland since 1986 is one of the world's leading sailcloth manufacturers, and when it comes to light air sails, Contender offers a wide range of PU-impregnated nylons available in all colors of the rainbow.
Superlite/Superkote Series for Racing
The Superlite/Superkote series, designed for radial cut racing spinnakers, is a favored choice among racers and comes in 12 different weights and colors.
For racers looking for the most innovative technology this design is a very good option. However, this premium sailcloth, comes at a very high price. 
Nylite and Stormlite for Cruising
For the cruising sailor, Contender offers two styles of sailcloth.
Nylite is made with the cruiser in mind keeping a good balance between weight and strength. Impregnated with a durable melamine finish, Nyliye has excellent resistance to tearing and stretch guaranteeing many years of great sailing performance.
Stormlite is specially made for tough Code Zeros or Reachers. With a combination of polyester yarn and melamine impregnation, Stormlite cloth retains its shape even better than nylon.
Bainbridge International
With almost a full century's experience in the field, Bainbridge International from the UK is one of the oldest sailcloth manufacturers in the world. Especially known for their vanguard AIRX series they have equipped participants of various iconic races such as America's Cup and the Vendee Globe.
AIRX for Racing
For racers looking for top-of-the-range sailcloth, Bainbridge offers the AirX nylon cloth with double ripstop weave ensuring exceptional strength, for symmetric and asymmetric spinnakers and code sails, available in 8 different colors.
Bainbridge's AIRX beats Contenders' equivalent Superlite/Superkote when it comes to affordability.
MPEX for Cruising
For the cruising sailor, Bainbridge's offers the MPEX multi-purpose sailcloth, manufactured using the same technology as AIRX. Made with an emphasis on durability and value MPEX is ideal for use with a furler, making the sail-handling very easy.
Challenge Sailcloth
Challenge Sailcloth, owned by the Bainbridge Family, is the greener choice. Without compromising exceptional quality, Challenge Sailcloth produces high-tech sailcloth made from 100% recycled fibres and film using non-toxic adhesives.
Challenge Sailcloth's selection of light-air cloths has something for every kind of sailor. Their selection for downwind and reaching includes four different constructions: Code-Tec for asymmetric and reaching sails for both racing and cruising. Super-Series' ultra-light sailcloth for racing code zeroes. FiberMax coated fabric for cruising Spinnakers, proven in the Clipper Cup Around the World Race. And the durable high performance Baltic Code Zero laminate sailcloth for code zeros.
Dimension Polyant
With climate-neutral factories in both Germany and the USA, Dimension Polyant combines traditional craftsmanship and cutting-edge technology to produce sustainable, top-of-the-range sailcloth for both the racing and cruising markets.
Their catalogue lists seven different sailcloths for downwind sailing covering a varied selection of sailcloth constructions, from the woven Precision Nylon or Polyester for symmetric and asymmetric spinnakers to the high-performance Code Zero Optic 2 laminate.
Mazu Sailcloth
This Danish sailcloth manufacturer offers both Nylon and Polyester sailcloth, melamine impregnated and polyurethane-coated for maximum water resistance and stability to suit both racing and cruising applications.
Mazu Sailcloth has a real flair for marketing and their well-designed website is incredibly comprehensible and includes a full page dedicated to explaining the many technical terms constantly used in sailcloth talk, to help you get a full understanding of their product descriptions.
Mazu offers two options for downwind sails: The melamine-impregnated and PU-coated Nylon Rip-stop, and the Polyester Rip-Stop for cross-cut and radial-cut spinnakers, gennakers, and light-air code zeroes.