Making a spot for your cup while sailing is not as easy as you think when the sailboat starts to heel. Use this resource to learn more about the best cup holders for sailing, listed in no specific order. Your choice will depend on which cup holder fits your preferences and needs. You need a cup holder that can attach to your boat well and fits your budget, but you might also look for other features like UV resistance and adjustable cup size. Here are the best cup holders for sailing and sailboats.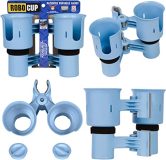 Best All Around Cup Holders For A Sailboat
1. Robocup
The Robocup is a simple solution to your cup holding needs. It clamps onto any sturdy vertical stanchion, girth permitting, meaning you can attach it to many points on your boat. The two cup holders are sturdy and made of UV-resistant plastic. They fit anything from cups to fishing rods. When you are not sailing, you can also take it with you — the sturdy clamp works with beach chairs, wheelchairs, and more.
2. Brocraft Dual Drink Holder
Brocraft's double cup holder utilizes UV-stabilized plastic to deliver a sturdy option for boat owners. The Brocraft cup holder comes with an adjustable clamp that lets you attach it to any orientation of railing on your boat. Brocraft cup holders are on the more expensive side, but their sturdy design makes them worth the cost.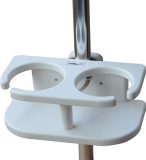 Brocraft Poly Drink Holder for 2 Drinks with Rail Mount Bracket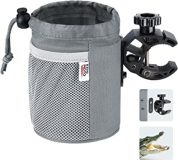 Kemimoto Cup Holder with Clip
3. Kemimoto Boat Cup Holder
The Kemimoto cup holder is a beast. It uses a tight alligator clamp to attach to your boat's handlebars. It can hold bottles up to 32 ounces and has an adjustable drawstring for smaller cups. The cup holder has thick insulation with an interior aluminum lining, which keeps drinks cold makes it easy to clean. This cup holder is fit for a king (or boat captain).
4. Shoreline Marine Boat Caddy
The Shoreline Marine boat cup holder and caddy uses the age-old technology of suction cups to provide a simple solution to your sailing needs. The cup holder sticks to flat surfaces, meaning you can put these almost anywhere on the boat. They are also ready to move if you want to change the seating arrangements. The deep cup holders work well for small objects, and Shoreline Marine uses sturdy plastic that should stand the test of time.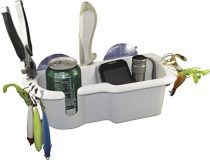 Shoreline Marine Large Marine Caddy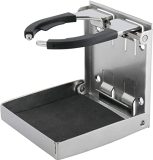 YaeMarine Stainless Steel Adjustable Folding Drink Holder
5. YaeMarine Folding Adjustable Stainless Steel Cup holder
The YaeMarine cup holder is elegant. This stainless steel cup holder folds up when not in use. The metal makes it especially resistant to the elements. These cup holders mount with four screws, so they are also sturdy. YaeMarine cup holders are great if you want to spend a little extra time and money ensuring that your cup holders look classy and work whenever you need them.
6. Attwood Gimbaled Cup holder
The Attwood gimbaled cup holder is perfect for sailing. The cup holder uses a gimbal to stabilize the cup whenever your boat rocks, ensuring that your beverage stays where it should. These cup holders also look nice with their chrome-plated steel design. The cost also makes Attwood cup holders one of the better values on Amazon.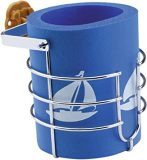 attwood Chrome-Plated Steel Gimbaled Mounted Beverage Holder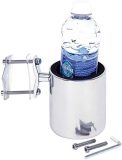 Diamond Plate Universal Stainless Steel Cup Holder
7. Diamond Plate Universal Stainless Steel Cup holder
The Diamond Plate universal cup holder is also for motorcycles, but it works well on boats and other vehicles. The Diamond Plate brand is more affordable than the GDAUTO cup holder, and its stainless-steel design might match your look better. The Diamond Plate cup holder is certainly worth considering for its value alone.
8. Accmor Universal Cup holder
The Accmor universal cup holder works for sailboats, bikes, or anything with a solid bar. This plastic cup holder clamps onto the boat to let you rotate the angle so the bar can be horizontal or vertical. This cup holder is on the cheaper side of Amazon and looks as good as other top sellers.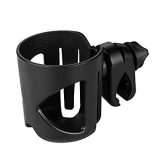 Put the Finishing Touches on Your Sailboat
Since you are shopping for cup holders for your sailboat, we hope it's safe to assume you are getting your boat ready for sailing. If you need new sails this season, you should check out our affordable used sail marketplace. We make selling your sails easy. Many of our sails come lightly used, and our customers can find options that are in like-new condition at used prices. By spending less on sails, you can spend your boat budget on sturdier accessories like stainless-steel cup holders.