In recent years, Beneteau has cemented its reputation as a builder of high quality racing and cruising yachts. Today, they bring together some of the world's finest yacht designers and builders to create the finest mass produced racer/cruisers on the market today. 
One of my long-time favorite boats built by Beneteau is the Beneteau 36, which has evolved over the years into an incredibly beautiful and functional racing/cruising machine. The most recent iteration, launched in 2022 as the Beneteau First 36, is my favorite Beneteau production design to date. Let's take a look at this incredible sailing vessel.
Intro to the New Beneteau 36 Sailboat
Beneteau brought together some of the most respected names in the industry to design the First 36 to be the most innovative midsize racer cruiser possible. This team designed this boat to be highly adaptable so that she would be equally at home racing around the buoys as she would be anchored up in a Mediterranean cove. 
The Beneteau First 36 is a true racer/cruiser with a planing hull and a sloop rig with a large sail area. Under the waterline, she has a deep fin keel and twin rudders. The hull is wide compared to previous models, with a lot of surface area above the waterline for maximum stability and interior space. 
Let's take a look at the specs: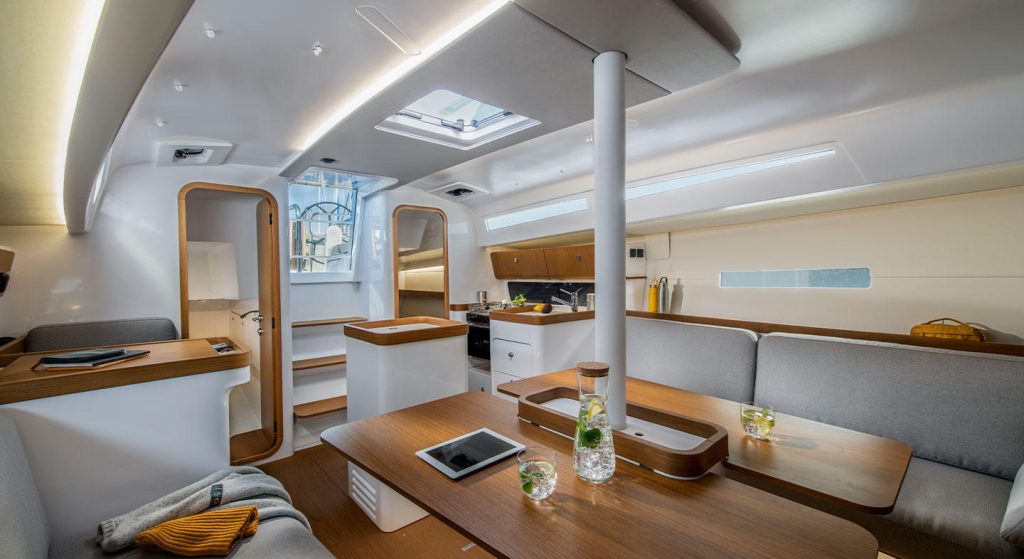 Hull Length: 36'1"

Hull Beam : 12'6"

Light displacement : 10,580 lbs

Draft standard keel: 7'5"
Ballast: 3,420 lbs

Upwind sail area: 860 sq. ft

Downwind sail area: 1,930 sq. ft
The Beneteau 36 as a Racing Boat
The new Beneteau 36 should excel on any racecourse and is likely to outperform most other cruisers of her size. She was built to be both light and strong, with exceptional planing ability as well as good upwind performance. Sailors used to the older Beneteau 36s, which were built as displacement boats, will be surprised by her turn of speed, especially while surfing off the wind. 
The designer's innovation really comes to light when you look at this boat's racing layout. The wide cockpit features dual helms, and she has cockpit benches that can be removed to open up the cockpit for easier access to the winches and lines and quicker sail trim on the race course. This boat was designed with short handed sailing in mind, and her high sail area/displacement ratio should make her a serious contender on any race. When it comes to a boat that is both fast and comfortable, the new Beneteau 36 is hard to beat.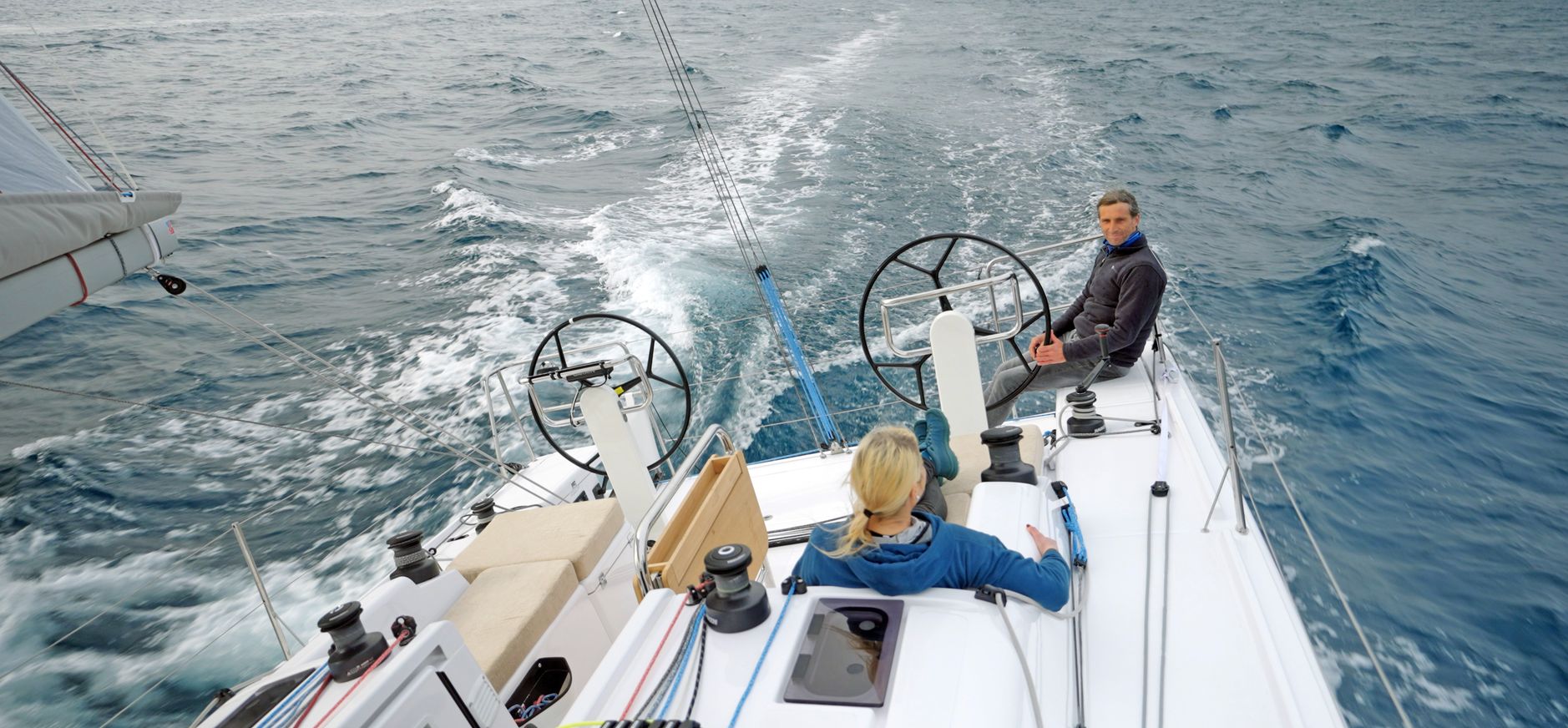 The Beneteau 36 as a Cruising Boat
As you can tell, no detail was left out in the design of the Beneteau 36 as a racing boat. But she is equally as functional as a daysailer or liveaboard cruising home. With the racing gear removed and the cockpit benches in place, this boat is transformed into a comfortable platform for cruising and living aboard. There is space for six adults at the cockpit table, and there is a lightweight swim platform that folds down from the stern for safe and easy access to the water. 
The large hull makes for a roomy cabin and down below, the 36 has more space than many 40 footers. There are three full sized cabins with heads, as well as a large navigation station that can double as a home office. She features a central fridge, along with a large dinette with a folding table and the largest galley in her class. 
Is the Beneteau 36 a Good Choice for Me?
So, how much does a new Beneteau 36 sailboat cost? This boat can be found on the market for between $220,000 and $300,000, making her competitively priced with other new vessels her size. 
Is she a good choice for you? If you are seeking a solid vessel that is both a competitive racer and a comfortable cruising platform, there are few better options being built today. While she might not be my first choice for a high latitude voyage through the Northwest Passage or around Cape Horn, she should have no problem cruising the Med or completing a westabout circumnavigation through the trade winds. If you want a beautiful new vessel that is seriously competitive on the racing circuit, it would be hard to find a more suitable choice than the Beneteau 36.