Your sailboat can be ready to go, you could have all the equipment, and the weather could be perfect. But you won't go anywhere without a quality mainsail! Most sailboats have at least one mainsail as well as a headsail.
The mainsail is a critical rig and triangular-shaped. Mainsails provide most of the power your boat needs to get around. When the time comes for a new mainsail, you need to know what to look for and how much you'll pay.
Factors That Affect Mainsail Costs
Not sure how much a new mainsail is? In truth, there are many different factors that can affect the cost of a new mainsail. Let's break down those factors one by one.
Sailboat Size
First, your sailboat's size – and thus, the size of mainsail you need – will impact the cost of your new purchase. Larger mainsails are more expensive than smaller ones. Keep in mind that some mainsails may look small depending on how they roll up.
Materials
Mainsails are usually available in three different materials.
The first of these is Dacron. Dacron is also the least expensive of the mainsail material choices. It's perfect if you only rarely use the sails on your boat. That said, it's not the most durable, and it will become baggier over time. Dacron is a woven material and is stronger sideways and up and down, rather than diagonally.
Laminated sails are made of laminated, composite materials. These are cloth-like and come partially made of materials like Dacron. However, this type of sail features a more complex, durable construction. Some materials, like carbon, are added to the final fabric for even more durability and longevity. As a result, these sails are more expensive, but oftentimes worthwhile.
Some other quality sails are made of 3Di membranes. These are constructed with woven carbon over 3-D molds to ensure maximum durability. This sail material is great if price is no object and you want to ensure that your new mainsail lasts for as long as possible.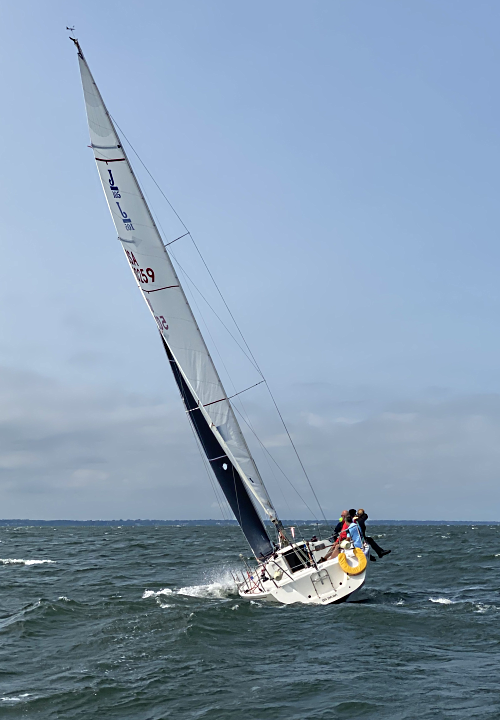 Sail Options
Then there are the types of mainsails you can purchase. Different mainsails, just like different types of sails in general, are best used for different purposes or goals.
Square top racing mainsails are high-performance and ideal for going quickly (such as during sailboat races)
Racing mainsails, which are designed for speed and which feature optional reef points
Cruising mainsails, which are easy to use, low maintenance, and generally built to last
Full-batten cruising mainsails, which offer better shape control compared to standard cruising mainsails. They also eliminate flogging since these sails are reinforced over their entire lengths
High roach mainsails, which are crosses between cruising and square top racing sails. They're typically used on multi-hole sailboats and cats
Mast furling mainsails, which are designed to roll up inside the mast. They are convenient, but don't offer as much control over their shapes and lack reef points
Boom furling mainsails, which are designed to roll up from inside the boom. These also lack reef points
With so many different types of mainsails to choose from, be sure to consider what your sailboat needs before buying.
New vs. Used Sails
Of course, new mainsails are more expensive compared to used sails. While used mainsails can be fine, you need to inspect them carefully and trust the seller so you don't pick up and install a bad component on your boat. New mainsails usually last longer since they haven't been worn down at all from wear and tear or from exposure to the elements.
New Mainsails
Luckily, you can get a new mainsail right now. Get a new brand-new racing or cruising mainsail quote through SailTrader. When you pick this sail, you can get a quick quote and customize the sail to your liking.
This new cruising mainsail is available in several types: standard, full-batten, high roach, mast furling, and boom furling. You can also choose from all three standard sail materials depending on your preferences. The sail is available with optional inclusions like draft stripes, leach cords, spreader patches, and more.
All in all, it's the perfect new mainsail for captains who want an excellent component for their prized watercraft. Check it out today, or use SailTrader to find other excellent sails!