If you are looking to purchase a new sail for your Hunter sailboat and want to know the details of selecting a perfect sail, this article is for you. 
Whether your Hunter boat takes you blue-water cruising, chasing the finishing line or day sailing around the bay, there are plenty of options for designing a new Hunter sail to fit your specific model and your sailing temperament. 
But there is more to choosing a sail than selecting its shape and sailcloth material, and it is getting the little details right, that will ensure that you end up with a sail that is more than adequate.
In this article, we will take a look beyond sail shape and sail material and focus on those extra features that will guarantee that your new sail will make your time on the water even better.
New Hunter Mainsail Features
When looking to purchase a new Hunter mainsail the options are plenty, and you will be sure to find something which will suit your boat and your sailing application perfectly.
Taking a look at North Sails' catalogue alone, you will be faced with a diverse selection of mainsails, including square-top racing mainsails, high roach, and fully battened cruising mainsails, as well as in-mast and in-boom furling mainsails. Each is available in various materials such as North Sails exclusive 3Di Raw, 3Di Endurance, NPL Sports, or NPC Radian sailcloth.
But once you have selected your mainsail and sailcloth, there are still a few more things to consider before giving your sailmaker the green light. Check out some of the features which are now offered for new Hunter sails and can be added and adjusted by your request.
Reef Points
Reefing your mainsail when the weather gets rough can prevent much damage done by the excessive strain on your sails and rigging when overpowered and make the sail more comfortable. If you are sailing in diverse conditions and often seeing strong winds, you might want to consider adding one or more reef points to your mainsail. 
The typical cruising mainsail configuration has 2 reef points placed at intervals of approximately 12 percent of the luff length. But if you plan to sail in very heavy conditions or are preparing for a longer voyage where there is a chance of encountering storms, you might want to add a third reef.
Similar to a storm mainsail, the third reef option is especially great when reefing early expecting a heavy squall, as it does not require sail change.
Battens
Sail battens are flexible panels that are inserted into the mainsail to help keep a stiffer airfoil shape, keeping the boat from heeling excessively, reducing the effects of weather helm, and improving overall sailing performance.
Sail battens also help give the sail more stability preventing excessive flogging and luffing in light winds and when tacking, sparing your mainsail much wear, prolonging its lifespan.
Manufacturers of Hunter Sails, give you the option of adding 1 or 2 full battens in the top section of the sail to help support a bigger roach and improve your sail shape and sailing performance. Fully battened cruising mainsails are also available for those who wish to have ultimate sail shape retention in all weather, without having to do much trimming.
North Sails' Hunter Mainsails Catalogue also gives you the option to have your battens made of Carbon for ultra-strength and minimum weight, qualities which are especially valued by racing sailors.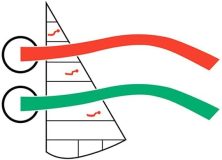 Telltales
Telltales or Steering Tales are little yarns attached to the luff of the sail indicating by the way that they are flying in the wind if your sail is properly trimmed. Whether you are a novice sailor or a connoisseur, telltales are a great way to ensure that you are setting your mainsail in a way that will make it work most efficiently.
Lazy Jacks
The purpose of lazy jacks is to hold the mainsail in place when lowering it and they are especially advantageous in use with fully battened sails, where the weight of the battens would otherwise cause the sail to fall past the boom, making it harder to accomplish a neat flaking job.
The lazy jacks can either be integrated into your mainsails' sail bag on the boom or they can be left mobile, attached to the boom with clips. The advantage to having them clipped on is that you will be able to move them out of the way to help with easier hoisting of the main when going downwind and reaching and avoid chafing on the sail.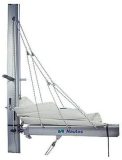 Nautos 001R – Lazy Jack Type A – Small Size – for Sailboats up to 31′- Complete kit with Rope Included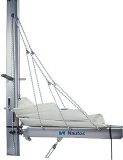 Nautos 002R- Lazy Jack System B – Medium Size with Rope Included – 32 to 38 FEET

Nautos 003FS- Lazy Jack System – Type C – Large Size – 39 to 46 FEET Sailboats – with SELF GRIPPING FURLING Straps
Cunningham
Much like a downhaul, the Cunningham is an adjustable line attached at the luff of your mainsail to help you change the shape of the sail to improve its performance.
It works by allowing you to tension the luff, thereby changing the draft of the sail, bringing it forward or aft. A general rule to follow is: Increase the tension for rough conditions and decrease the tension for mild conditions.
The Cunningham is an important mechanism with new sails in racing when sail trimming is imperative. But it is also a great device for long-term cruisers to help with correcting the shape of older sails where perfect sail shape has been lost.
New Hunter Headsail Features
Hunter headsails come in a variety of styles and sailcloth to suit both the cruising and racing market and are already included in the catalogues of most top sailmakers, with the possibility of getting a quote with a simple click.
Again, North Sails offer a wide range of sails custom-made to suit Hunters' specifications. Their catalogue includes high-performance racing jibs and genoas, roller furling cruising jibs and genoas, Helix sails and Code Sails, all available in various sailcloth materials such as the conventional cross-cut Dacron's, high-performance laminates, and North Sails exclusive 3Di.
But before you go ahead with your order for your new headsail, here are some features to consider, to make your headsail complete.
Furling and UV Strip
Sail handling does not get any easier than when having your genoa or jib on a furler. This is especially relevant for cruising Hunters who want the convenience of always having the sail ready on the bow. But to ensure proper care of your furling mainsail, it is important to have a UV strip added to protect the Leech and Foot, which would otherwise sit exposed to the elements when furled and not in use.
The leech and foot protection is a listed feature offered by various sailmakers when checking their Hunter Sails Catalogue, made from the top-of-the-range Sunbrella fabric available in various colors to match your existing sail covers 
Stainless Steal Corner Rings
Stainless steel corner rings are not only extremely durable and make for easy head, tack, and clew attachment, they also entirely eliminate chafe around the clew, where the sheets are tied.
Telltales
As mentioned earlier telltales are a great and easy way to ensure that you are setting your sails correctly. And just like on the main, telltales can also be added to your headsail.
There is also an option for adding a telltale window in your headsail so you will be able to see the leeward telltale easily.
This is especially advantageous for racers who are constantly trimming and want to be able to check sail efficiency without having to constantly move forward to look.
Luff Tape
The luff tape is the part of the sail which feeds into the headfoil attaching the sail to the furler. It is available in both durable and lightweight to suit your sailing application. The most common size is #6 which is just over 3/16" thick.
If you already have a furler and you want to fit your new sail onto it, make sure that you inform the sailmaker of your headfoil size. (You can measure the luff tape of your old sail using calipers or check your furler's manual.)
Spreader and Stanchion Patches
One of the first places to wear on your sail is where the cloth rubs against your spreaders or stations when sheeted in tight. But there is a very easy solution to this, which is guaranteed to save you a lot of money in sail repair in the long run.
Spreader and stanchion patches can be added to your sail, in exactly the spots where your sail will be chafing.
Who Makes New Hunter Sails
One of the great advantages of having a popular production boat such as the Hunters is that it is extremely simple to buy new sails for it. Unlike non-production boats or boats with modified rigs that require a whole heap of measurements taken before the sailmaker can get started, Hunter boats provide standard specifications for their sails, with explicit guidelines for each of their models. This allows sailmakers to keep whole catalogues on sails specifically designed to suit each Hunter Model.
SailTrader makes it easy to find world-leading sailmakers such as North Sails, Precision Sails, and Doyle Sails list over 150 models in their sail catalogues. Just select your model and choose what kind of sail you want, and "Voila" your sail will be in production without you having to lift a finger.
It's Easy With A Hunter Sailboat
This may seem like a lot of things to consider for your new sails, but in the end buying sails for a Hunter boat is a relatively straightforward task that can be done from the comfort of your desk.
So, when you're choosing a new sail for your Hunter boat, take delight in the many options and reputable brands for you to choose from.
Take your time to consider what features suit your sailing needs, then get a new sail quote SailTrader.