Whether you're selling your boat yourself of using a broker, spending some time preparing your boat for sale will make the sale quicker, easier, and may net you a little more for the boat. And if you're not using a broker, you've got to get it ready to make your own interesting listing to get interested buyers to e-mail you or pick up the phone.
So what are the steps to get your boat ready for sale? In short, you want to clean, polish, shine, fix and inventory what you can to maximize the "curb appeal" of the boat. If you're selling it yourself, you'll need to stage pictures and write a listing, then get the listing in front of buyers.
Sounds like a lot of work? It can be, but if the boat doesn't show well, it will not sell easily for a good price.
Down Below – Deep Clean
When a buyer walks onto a boat, they need to take a deep breath and smell fresh, clean air. And they need to see a boat that is spotless, without a lot of clutter and old boat gear lying around. While you can't do much about things like worn cushions or old curtains except replace them, cleaning everything offsets much.
Remove Old Gear
If a piece of equipment isn't conveying with the boat, get it off. This can be tricky if you're selling a boat you're still using, but get rid of as much as you can and be ready to get your own gear off before a showing. The aim is to declutter the boat, so it is as open, empty, and airy as possible.
Most boat buyers love "free stuff" when they buy a boat, because they think it's less they will need to buy after closing to get ready. But they don't necessarily like a lot of the old, used or worn looking gear they see on a boat. And a lot of it's going to get replaced anyway, despite their excitement at seeing it on the equipment list.
So if you have gear you don't want or plan to leave but it's less than pristine, take it off the boat and store it. You can tell the buyer about it and move it back before closing. For photos and showings, keep the boat clutter-free.
Open Every Locker
And lift every cushion and floorboard. You're looking for gear to take off, but you're also cleaning as you go. Infrequently used lockers and under floor spaces are prime sources of not-entirely fresh smells, and you want nothing stale on your boat. Wipe every locker and floor space with a stout cleaner to remove any accumulated dust and dirt and kill and developing mildew.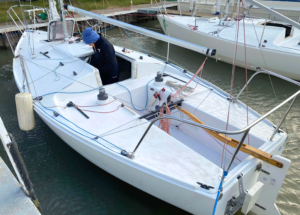 Polish and Clean
All the shiny surfaces in the living space need to glow. If you have brass clocks, barometers, bells and so on, get some metal polish and make them shine. Do the same with stainless faucets, sinks, and fixtures.
Clean wood surfaces with Murphy's Oil Soap or your preferred furniture polish. Clean mirrors and glass so it's spotless.
Spend extra time in the head, because that's an area that can really turn a buyer off if it's anything less than pristine.
Topsides – Polish and Shine
Before you take pictures of the boat, give it a good wash, then polish the hull and put on a fresh coat of wax. You want that water reflection to show in your pictures. Give the deck and cockpit a good cleaning, and get all that stuff out of the corners that builds up when we're not on the boat.
Polish all the visible stainless, including stanchions, Bimini and dodger poles, lifelines, and any other structural stainless. Little details like that show in pictures, and they really pop in person.
Your goal is to make the buyer fall in love with your boat when they're walking down the dock to see her, so put in the elbow grease to make her glow.
Fixes and Repairs
We've all got some deferred maintenance, but before you list a boat, it's important to fix as many of the known problems as you can. There are two reasons for this.
First, a boat with broken bits does not show well. Too many missing knobs or cracked pieces of plastic make a boat look worn, and turn off buyers.
When you're showing the boat, you don't want to constantly say "this doesn't work" or "I'll fix this before the closing." It makes it sound like you didn't care for the boat, and a buyer will not be eager to buy a boat with a work list they have to check on before the closing.
If the buyer surveys your boat, they will find the problems. They're a lot stickier to deal with that way, and it's best to fix what you can so you don't have to haggle over it later in the deal.
If you have major systems to repair and don't plan to fix them before the sale, disclose this to the buyer up front. Just make sure you're clear it's factored into the asking price.
Inventory
The boat inventory you put in a listing may become an exhibit attached to a purchase and sale agreement that gets cross checked during a survey. Make an accurate and complete list, and include nothing that isn't on board and working.
It's also a sales tool, as it shows that your boat is well equipped and ready for use. Detail is important and helpful to a buyer. A listing with little detail will often get skipped in favor of boats which look better equipped.
For your inventory, include:
Sails – types, sizes, brand, material, and age.
Engine and generators year, make, model, and hours.
Battery bank details (age, Amp-hour, battery chemistry and brands).
All permanently mounted electronic equipment – radios, radar, chart plotters, autopilots, AIS, etc. Include make and model, and age, if you know it.
Ship's PC, if there is one, and it's staying, and any navigation software licensed on it.
Tankage types and capacity.
Galley equipment – refrigeration, stove/ovens.
Any handheld or portable equipment included with the boat, e.g. VHF radios and GPS.
Household gear left with the boat – dishes, pans, towels, etc.
Anything else you may think is valuable and noteworthy
Photos
A professional boat photographer will do a beautiful spread for your boat, but will can set you back a lot of money. For an older or less expensive boat, it's not worth the expense. With a little preparation, you can take excellent pictures yourself. With care and staging, you can even do it with a cell phone, though an SLR with a few lenses, a flash, and a tripod can get better results.
Interior
Lighting is the key to good interior photos. It's best to take your interior photos with dim light outside, and all the boat lights on. This gives a warmer feel to the boat and prevents portholes and windows from flaring out your interior shots.
Clear ALL clutter from tables, counters and chairs. It doesn't matter if you have to just move it to another room or on deck while you take your pictures – get EVERYTHING out of the pictures but throw pillows and a few staged items.
Take pictures of the cabins, saloon and galley from multiple angles, and pick the best views for your listing. Watch pictures for stray clutter and photo bombs in the background you don't expect. You don't want your beautifully staged saloon shot ruined by cables hanging out of a locker!
If you have the skill to edit it, try a video walkthrough. Make a tour of the boat with your running commentary on features and highlights. Edit out the pauses, shakes, "hmms," and other non-professional points.
Exterior
Dock shots of your boat are nice, but it's best to get some pictures of her on the water – at anchor, at a mooring, or, if possible, sailing. You want to show her lines and her hull shape.
Get the boat off the dock and park some place you can get around it with a dinghy. Take pictures all around the boat from the water and stand up in the dinghy to get a better angle. If you have access to a drone, drone pictures are now all the rage for selling boats and they can really highlight her beauty.
For pictures under sail, you have a few options. A friend with a boat can chase along with you, or you can sail past a spot on land where a friend waits with a camera. If someone can get video of you under sail, use it.
Take lots of detail shots of the helm station, the cockpit and the deck.
You may not use every picture or video you take in a listing, but you can send them to buyers when they ask about the boat, so you can't have too many.
Writing a Listing
Your listing draws the buyer in once the pictures draw the eye. It needs to be crisp and concise, accurate, upbeat. Avoid exaggeration, unbelievable statements, and flowery, hard to read descriptions.
Start with a paragraph describing the boat. You can talk about how you used the boat – for cruising, racing, and so on. Lots of detail isn't necessary, as you're just setting the stage for what type of boat this is and what it's good for.
Next, walk through the boat, with paragraphs describing the living space. Sections for the saloon, galley, cabins, cockpit, and basic systems are all helpful. Talk about how it's useful, and what works well and what features you like. Finally, put the inventory at the end of the listing.
Check it all for grammar, and write as well as you can. Check it through a free site like Grammarly.com, or write it with MS Word, so you catch and fix spelling and language errors. When you have a clean, easy to read listing that you're happy with…show it to someone else who knows a little about boats.
You checking that what someone else sees in the listing is what you mean to say. When you've gotten some feedback, you're ready to list the boat.
Listing the Boat
Listing here on Sailtrader.com is easy and free. We've got spaces for searchable boat features, open body text, twenty pictures, and a video link. If you haven't registered an account yet, set one up and post your listing.
There are several other boats-for-sale sites you can consider. Some are free, some are low cost, and some can get quite expensive. The trick to managing these listings is to track them. Create a list of sites with usernames and passwords, costs, and listing expiration dates.
If you change the listing at all, you'll need to echo that change on all the sites. You don't want your boat showing up in searches at three different prices!
Respond to all inquiries in a timely fashion, and be prepared to answer questions, forward pictures, and share maintenance records.