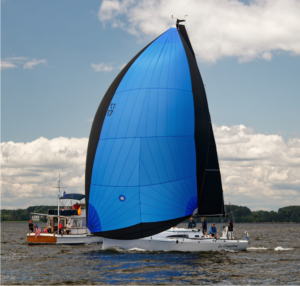 Hey sailors! Are you looking to take your racing game to the next level? Look no further than Quantum Sails. The secret to success on the water is having the right sails, and the type of sail material you choose can make all the difference in your performance.
Whether you're a seasoned racer or just starting out, the team at Quantum Sails is dedicated to helping you find the perfect mainsail, headsail or spinnaker for your boat. In this guide, we'll break down the three main types of sail materials offered by Quantum Sails: cross-cut woven polyester, Fusion M®, and tri-radial.
Cross-Cut Woven Polyester
The Perfect All-Rounder
Cross-cut woven polyester sails, also known as RW 1000, are the workhorses of the racing inventory. They're designed to handle all the stresses and strains of racing, while also being easy to handle and super durable. These sails are perfect for sailors who want to achieve great performance while also having a reliable sail that they can rely on.
One of the main design criteria for these sails is their shape, and Quantum's sail designers pay close attention to this aspect. The smooth, flat aerodynamic profile of the sails provides optimum upwind performance, while an open trailing edge reduces heeling and weather helm. The result is a sail that gives you maximum control over your boat's handling and speed. The design is also customized to your specific boat and the conditions of the race, taking into account factors such as mast bend, displacement and righting moment.
The material used in these sails is also a key factor in their performance. Quantum uses only the highest quality, tightly woven, and most stretch-resistant woven polyester available. This minimizes stretch and ensures that the sail will hold its shape and perform consistently race after race. The extra-wide seams and multiple rows of triple-throw stitching used in the construction process make the sail both strong and flexible.
Additionally, at Quantum, we thoroughly test the fabrics that we use, ensuring they are the best quality and fit for the intended use. This attention to detail is what makes Quantum's woven polyester sails stand out among their competitors. And, with "butterfly" reinforcements at both the inboard and outboard ends, you can be sure that your cross-cut woven polyester sail will last for a long time, even under the most demanding racing conditions.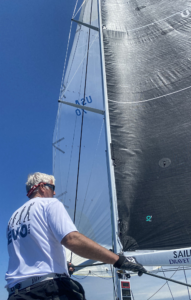 Fusion M Sails
Made of Speed
Fusion M sails are Quantum's top-of-the-line racing sails, designed for pure performance and for sailors who are looking for the fastest and most efficient tailor-made sail for their program. These sails are made with the latest technology and materials, making sure that they will be the best fit for your boat and the racing challenges it will face.
One of the standout features of Fusion M sails is the iQ Technology® design process. This process guarantees repeatable and unprecedented shapes in an easy-to-trim package, making it perfect for sailors of all skill levels. The custom sail design is developed using the most advanced membrane construction and shaping methods in the industry. This technology allows for a perfect fit for your specific boat and races, giving you the ultimate performance advantage.
On top of that, you also have the option to customize your sail with square-top or pin-head options and in either VX (black or gray) or Matte (gray) skins. This means you'll get the perfect sail for your specific needs and preferences, whether you're looking for ultimate strength and weight ratio or a sail tough enough to go around the world.
But what truly sets Fusion M® sails apart is the advanced membrane construction and shaping methods used in their design. These methods allows for a custom sail design that is developed and optimized specifically for your boat and racing challenges, resulting in a sail that is like having a tailor-made just for you and your crew. With a wide range of fiber and filament packages, combined with the latest skin options, you can choose the perfect balance of performance and durability for your needs.
Tri-Radial Sails
The Future Today
If you're looking to push yourself and your boat to the next level, Tri-radial sails are the way to go. These sails utilize panels of pre-made materials radiating from the three corners of the sail, which results in lower stretch and improved shape-holding. This means that the sail will hold its shape better, even under high-wind and high-speed racing conditions.
The tri-radial construction technique, combined with proprietary computational tools from Quantum's iQ Technology® suite, allow for custom shaping tailored to the sail and specific boat, for maximum control and performance. These sails are perfect for sailors who are looking for even more performance than what a classic woven polyester sail can provide, and want to dominate the competition on the water.
The long, or "warp" fibers of the material are oriented to align with the primary load paths, providing a stronger and more stable sail. This results in a sail that will hold its shape better, even in the most demanding racing conditions, making it easier for you to control your boat and stay ahead of the competition.
Quantum's tri-radial sails also feature the iQ Technology® suite, allowing for custom shaping and optimization for your specific boat and racing conditions. This ensures that your sail will provide the ideal balance of power and control for your boat. This means that you'll be able to optimize your boat's performance and achieve the best possible results on the water.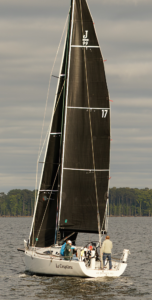 Sailing Away
Last Thoughts
In addition to offering a wide range of high-performance sail materials, Quantum Sails also utilizes state-of-the-art iQ Technology® in the design and construction of all of their sails. This technology allows for real-time adjustments during racing, making it easy for sailors to optimize performance and track data.
Our team at Quantum Sails also works closely with each sailor, developing custom designs that are tailored to their specific needs and preferences, and offering support and solutions throughout the racing season. With Quantum Sails, you can trust that you're getting the best sails and the best support on the water.
Long story short, sail material is crucial when it comes to racing, and the selection of the right material can greatly affect your performance on the water. Quantum Sails offers a wide range of options with cross-cut woven polyester, Fusion M®, and tri-radial sails, each with its own set of advantages and features. Whether you're a seasoned racer or just starting out, Quantum Sails has the perfect sail for you.
From the workhorse cross-cut woven polyester sails to the cutting-edge technology of Fusion M and Tri-radial sails, you can trust that you will be able to sail faster, farther and with more confidence than ever before. Don't settle for anything less than the best, choose Quantum Sails for your next racing adventure and you'll be sure to make a splash on the water!