Taking to the seas or the local lake can be a blast, especially on a quality sailboat! But whether you're heading out alone or taking some friends and family members, you need to have a first aid kit stocked and ready to go whenever you're aboard. Read on to discover several sailboat first aid kit recommendations.
Why Do You Need a Sailboat First Aid Kit?
Simply put, because accidents happen.
Even if you are very careful and follow safety procedures to the letter, you or someone else on your sailboat could become injured. Someone might break a bone, suffer a laceration, or go overboard and hit their head.
When an emergency occurs, you won't be able to get medical attention for at least several hours, if not even longer. You need a sailboat first aid kit so you or someone else on board can give an injured person medical attention. A sailboat first aid kit is often enough to prevent minor injuries from becoming worse or stabilize an injured individual long enough for them to receive professional medical attention.
What Should Be Included in a Sailboat First Aid Kit?
With hundreds of sailboat first aid kits to choose from, you need to know what to look for to ensure your kid is ready to go in the event of an emergency. A fully stocked and worthwhile sailboat first aid kit should include: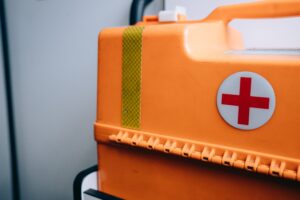 A guide to tell you how to use all the included equipment
The basic items needed to handle common injuries, such as bandages, tweezers, gloves, antiseptics, painkillers, and other tools
An organized interior so you can easily find the tools or items you need in an emergency
A durable exterior – a marine first aid kit is only a good choice if you can count on its contents not being soaked or damaged
Furthermore, make sure your sailboat first aid kit comes with reliable components. The last thing you want is your first aid kit bandages, for instance, not holding up long enough for an injured person to get medical attention.
To determine whether a first aid kit is worthwhile, read the reviews for a given kit and see if anyone has had issues with it in the past.
Top Sailboat First Aid Kits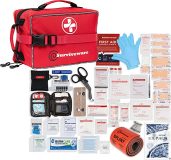 Surviveware Comprehensive Premium First Aid Kit Emergency Medical Kit
Surviveware Comprehensive Premium First Aid Kit
First is this comprehensive and water-resistant first aid kit. It includes 200 quality pieces as well as labeled compartments on the interior: perfect for identifying the tool or item you need in a pinch. It's also highly portable, as it features MOLLE-compatible straps and an advanced mounting system.
M2 Basics 321-Piece Emergency First Aid Kit
If you want to place your first aid kit on the walls inside your sailboat, you won't get better than this. This first aid kit is wall-mountable and extremely durable thanks to its thick exterior case. It comes with 321 pieces in total, making it a capable choice for disasters on your sailboat or anywhere else.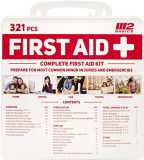 Complete 321 Piece Emergency First Aid Kit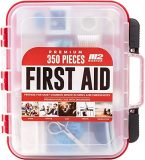 Professional 350 Piece Emergency First Aid Kit
M2 Basics 350-Piece Emergency First Aid Kit
This emergency first aid kit is from the same brand, M2, but it's smaller and comes with 350 pieces. The case can also be mounted on the wall, and it comes with two layers. One layer is for large medical items like emergency blankets, while the other is for smaller medical items such as scissors and tools. Once opened, the case displays shelves for easy organization and item access. The shelves can be tilted for further ease of use.
M2 Basics 300-Piece First Aid Kit
This affordable 300-piece first aid kit comes with a durable cotton exterior and 300 pieces. It's extremely lightweight and features a zippered bag with clear pockets on the interior, allowing you to organize your equipment however you like. The kit can be attached to your backpack or other gear using a carabiner.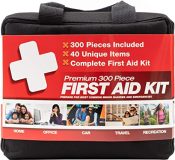 Premium 300 Piece (40 Unique Items) First Aid Kit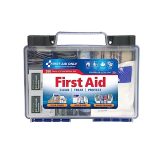 First Aid Only 260 Piece All-Purpose First Aid Kit
First Aid Only 260-Piece All-Purpose First Aid Kit
First Aid Only offers a 260-piece first aid kit with enough contents to treat up to 50 people. It comes with a durable case with slide latches as well as individualized compartments for easier organization and fast item location. This is also one of the most affordable first aid kits available.
Wrap Up
Ultimately, having a sailboat first aid kit is your responsibility as a captain or boat owner. A kit could mean the difference between life and death and can ensure that no one becomes too injured while on a boat. Grab at least one of the above kits before setting sail on your next adventure!