Your sailing gloves may be the most personal piece of sailing equipment you own; they've got to fit well and regular use will protect your hands and help you sail better. Here's a list of the best sailing gloves to buy for new and experienced sailors.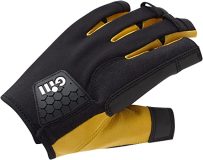 Gill Pro Sailing Gloves – Short Finger with 3/4 Length Fingers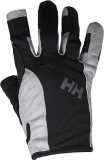 Helly-Hansen Sailing Glove Long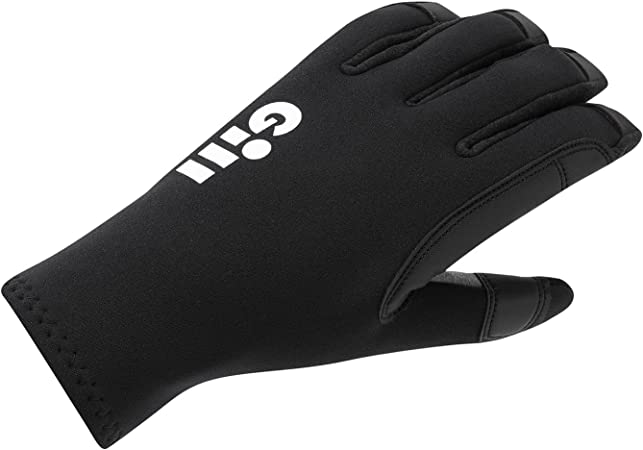 Gill Lightweight Neoprene 3 Seasons Gloves with Dura Grip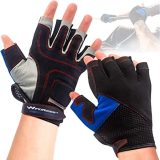 WindRider Pro Sailing Gloves – 3/4 or Full Finger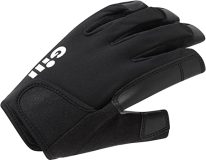 Gill Championship Sailing Gloves – Long Fingers with Exposed Finger and Thumb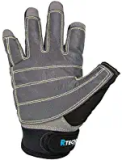 Ronstan Sticky Race Glove 3 Finger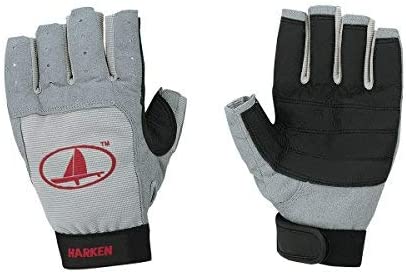 Harken Sport Classic 3/4 Finger Glove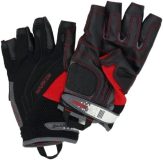 HARKEN Sport Men's 3/4 Finger Reflex Gloves
So what makes a good pair of sailing gloves? There are a lot of things that go into this, and it also depends on how you sail. Sailing gloves for a big boat sailor in the Caribbean will be very different from what a frostbiter in New England needs. But the important features are grip, fit, and protection.
Why Wear Sailing Gloves?
Many sailors never own a pair of sailing gloves, and they aren't often seen as critical equipment. You'll find times on the water when you don't want them or when you'll be happier without them. But a good pair of gloves can protect your hands and give you better control handling lines.
The best grip
When you haul on a line, you want to pull as hard as you can for the strongest haul. A good gripping palm will help minimize taking dangerous and uncomfortable wraps around your wrists for more traction.
The slick covers and small diameters on small boats and dinghies can be difficult to grab. And the braided covers on many big boat lines can be very slippery. Even leather wheel covers worn smooth and tiller handles will grip better with a good sticky-palmed sailing glove.
Protecting your hands
There are so many ways you can hurt your hands sailing, from grabbing runaway lines during maneuvers to hauling hard against loaded sheets. Gloves protect from rope burns, blisters, and pinching.
Of course no protection is perfect, but if you've every grabbed a sheet that popped out of a self tailer or tried to slow the main sheet during a gybe, you know that a good pair of sailing gloves can save you some pain.
Cold weather sailing
Frostbite sailors know that value of good gloves; you can't grab a line if you can't move your fingers! But even early and late season sailing can be cool. When your body is wrapped in foulies your exposed hands will be the part that gets cold first. Nevermind the discomfort – cold, stiff fingers make simple tasks a challenge.
What Makes a Good Sailing Glove?
They make different gloves for different applications, and the best glove for dinghy sailing in the late fall may not be the best one for the middle of winter, or for big boat sailing in any conditions. While there are many "good" gloves out there, what makes the glove an ideal fit for each application is a personal choice.
Durability and protection
A good glove will have a reinforced palm where abrasion is likely and be well stitched and solid throughout the glove. While the back of your hands need less protection than the palms, the glove will be subject to strain and pulling and needs to stand up to abuse.
Handling water
Warm weather sailors need breathable gloves that dry quickly when they get wet. Cold weather sailors want to keep the cold water (and air) out. When picking a glove, how you want water handled is critical and multi-season/mode sailors may need different gloves for different situations.
Look for mesh, spandex, and breathable materials on the backs for warm weather gloves, or neoprene and other more protective materials for cold weather sailing.
Palm grip and slip resistance
A slippery sailing glove is nearly useless, and most glove manufacturers use leather or specialized materials to improve palm grip. Look for leather palms, or for synthetic palms made for better grip.
Fingers and dexterity
Any glove will make fine motor tasks like knot tying and pushing instrument buttons difficult. Sailing gloves are often labeled as 3/4 Finger, Full Finger, or Three Finger, or in they may not be labeled at all. The fingertips on a 3/4 finger glove are cut away – all the fingers are 3/4 length. This gives you the most dexterity since you have all five fingertips exposed. Full Finger and Three Finger gloves have only the thumb and index fingers cut away – though some may have a pull-back tip you can cover your fingers with when you don't need fine control. You can still perform many tasks well, but you will notice some difficulty where you need all five fingers.
Gloves with no cutaway rarely have any mention of the finger length, and some are still called "full finger" so it can be confusing.
Warmer weather sailors prefer 3/4 Finger gloves because they're cooler and the least restrictive, but may move to a full finger for spring and fall cool weather sailing. No matter what you are looking for, check the pictures of the gloves carefully to make sure the fingers are cut the way you expect.
Fit and Comfort
Many gloves use spandex, nylon or other stretchable fabrics for a comfortable fit. Too-tight gloves will cut off blood circulation and may cause pain and pinching, and too-large gloves may slide around on your hands and make you clumsy. Some will stretch a little over time, but a glove which is very uncomfortable from the start isn't likely to wear in comfortably.
As soon as your order online glove order arrives, open them up and try them on right away. Wiggle your fingers, make a fist, and feel for any pinching or binding in the fingers. Also check the tackiness of the palms – clap the gloves together and slide your hands against each other. If you've got some rope handy, tie some knots with the gloves on. Tie it off on something and pull on it.
Glove fit and comfort are very individual, and you need to know immediately if you need to return them for a different size or model.