Top 8 Sailing Knives
A sailing knife is a crucial companion for anyone out on the sea. It's a versatile tool used onboard or while rigging up a dingy onshore. A sailor should always have one when sailing or working on a vessel.
What makes a good sailing knife will depend on the user and their expectations. Some of the general considerations include:
Dependability of the blade
How they are accessed or opened
The comfort of the grip when using the blade
The cost of the knife
The choice of the material, design, sheath, clip, edge, tip, and other features depends on you. It should fit how you sail and use the knife. Below are some of the best sailing knives available today.
1. Gill Harness Rescue Tool
Gill is one of the most popular sailing knife brands. They have a wide variety of available tools that offer multiple features. Still, simplicity is the best option at times, and that is what the Harness Rescue Tool offers.
The 127-mm-long blade is made from 420-grade stainless steel. A low-profile design allows it to fit in your pocket or sailing suit. It has a shackle key that works with small and medium sizes. The handle offers a good grip as well.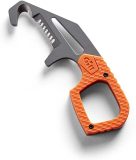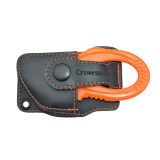 Crewsaver Boating and Sailing
2. Crewsaver ErgoFit Safety Knife
The ErgoFit Safety Knife from Crewsaver is designed to be carried at all times while on the water. It is small, but it is trustworthy and effective. The knife can cut ropes or webbing in emergencies. It is recommended for sailors with safety in mind.
Constructed from durable nylon plastic, this is a knife you know will last. The blade has an ergonomic shape for efficient cutting.
3. Gill Personal Rescue Knife
Another entry from Gill is the Personal Rescue Knife. In emergencies, the folding blade is serrated and useful for cutting ropes, lines, and webbing. You can choose to clip it to your belt or lifejacket.
The handle works well in dry and wet conditions because its grooves are specially designed for better handling. Also, its bright orange color makes it easily visible even in dim conditions.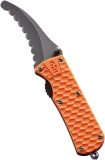 GILL Personal Rescue Knife with Folding Titanium Coated Serrated Blade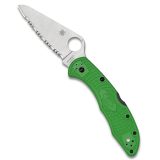 Spyderco Salt 2 Lightweight Knife
4. Spyderco Salt Series
Spyderco has come into the sailing knife market with several offerings, including the Salt Series. This series features Japanese steel blades which become stronger after every use, like the samurais of old. The serrated edge helps with cutting line and rope in any situation. The Spyderco Salt Series is perfect for long-term use. It has a quality blade and an easy-to-use handle.
5. Camillus Carbonitride Titanium
Are you looking for a knife that is stronger than regular stainless steel? The Camillus Carbonitride Titanium is for you. It has a VG-10 Japanese steel blade that is ten times stronger than most knives on the market. The handle is made from stainless steel to ensure that it lasts for years.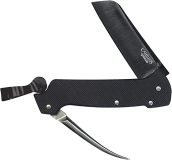 Camillus Marlin Spike Folding Knife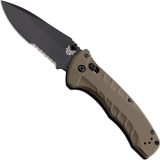 Gill OS3 Men's Coastal Jacket
6. Benchmade Knives
Lightweight and pocket-friendly, you may sometimes forget that you have the Benchmade Bugout sailing knife on you. It is a dependable and quality product that will last against wear and tear. It has a sturdy locking mechanism for safety and a textured handle for improved grip, even in wet conditions.
7. Myerchin Generation 2
For a knife that is different and offers multiple features, the Myerchin Generation 2 is the choice for you. It uses high-quality German steel with a sturdy handle, which has an ergonomic design for easy use even with just one hand.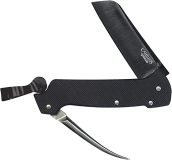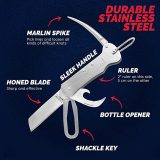 Maxam 3 3/4 Inch Sailor's Tool
8. Maxam Sailor's Tool
Do you need a tool that offers more than just a knife? The Maxam Sailor's Knife is a great choice. It has a honed blade, bottle opener, a spike, shackles keys, and a double-sided ruler, all on a stainless steel handle. And it comes with a limited lifetime warranty.