With over 75 parks in the state and many other waterways, Ohio is a great place to own a sailboat. You can enjoy the great outdoors with your family and friends aboard your vessel. Just remember that when you own a boat, you need to register it.
There's a process to follow when you own a sailboat in Ohio. Like purchasing cars and other vehicles, you need to register your vessel with the state to ensure they are safe to travel and will not cause harm. It is illegal to operate your sailboat without proper registration.
With that, here is a sailboat registration guide.
The Process of Sailboat Registration in Ohio
The first thing to do is ensure you have all the documents on hand. You must prove that you own the sailboat and have come upon it through legal means. That means producing proof of purchase from the seller. 
As primary proof that you officially own the sailboat, you will need to produce a title for it. This document is required even if you are registering out-of-state. If a title is not available, you will have to procure one. Note that sailboats measuring less than 14 feet with a permanent means of propulsion of less than 10 horsepower is exempt from titling.
You will then need the following documents and details to complete your Certified Watercraft Registration Application:
Serial number
Boat number
A description of the make of the boat
Length of the boat
Year of the boat
Material used for the hull
Other relevant details about the sailboat
You can register by going to the watercraft office or working with an agent. Fill up the application form and provide all the documents necessary to prove your ownership.
Transferring Ownership of a Sailboat in Ohio
If you purchased a used sailboat, you will need to transfer ownership. You will need a bill of sale and the title notarized with both parties. The Ohio Department of Natural Resources can provide a detailed breakdown of what type of sailboats require which documentation.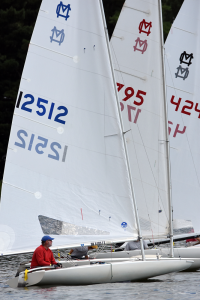 Ohio Sailboat Registration Fees
The next step in registering your sailboat in Ohio is to pay the appropriate fee. The length of your sailboat will determine how much you need to pay. 
Below is a quick guide on the fees associated with your sailboat registration:
Sailboats measuring less than 16 feet = $33
Sailboats measuring between 16 and 26 feet = $48
Sailboats measuring between 26 and 40 feet = $63
Sailboats measuring between 40 and 65 feet = $78
Sailboats longer than 65 feet = $93
In case you are only transferring an unexpired registration from the previous owner, you need only pay $5. Also, note that titling a boat is a separate cost from registration. It will cost $15, plus applicable taxes and other fees.
Boater Safety Education Course
Ohio laws require everyone born on or after January 1, 1982 to acquire a Boater Education Certificate before being given permission to operate a sailboat. If you fall under this demographic, you need to complete a course designed to educate boaters and sailors about safety and proper operation.
After the course, you will need to take and pass the Ohio Boating Safety Test. 
Displaying the Registration Number and Decal
After successfully registering your sailboat with the Ohio Watercraft Office, you will receive your registration number and decal. You are required to display these details clearly on the vessel.
The registration number begins with the letters OH, followed by four numbers and two letters. Here are the requirements you need to meet:
They must be on each side of the sailboat, located on the front half.
The number needs to be read from left to right.
Use block characters.
The size of the letters should be at least three inches in height.
Use a single color contrasting the background of the vessel.
All details must be clear and legible at all times.
No other numbers should be present on the vessel.
Along with the registration number, you will receive two decals. These are placed on each side of the vessel, six inches from the number going to the stern.
 How Long is the Registration Valid?
The registration number and decals are valid for three years. They always expire on March 1 of the indicated year, after which you must remove the decals and renew the registration. That process is simpler than a new registration and is also done either in the watercraft office or through an agent.
Other Details
Sailboat registration can vary from state to state. Be sure to find your local authorities to make sure your sailboat registration is current and up to date.