As every sailor knows, the weather you leave the dock with may not actually be the weather you end up sailing in, so preparation for a variety of sailing conditions is always a good idea. And it's always colder and wetter than it looks when you're sailing upwind!
Here are five recommendations for personal clothing you should own and take with you on every sailing trip. We'll give you the reasons and a few things to look for when to get you the right personal gear for a day on the water.
1. Lifejacket
Treat your PFD as clothing. The best PFD is one you wear, and you're much more likely to wear one which is comfortable. When you walk on someone else's boat looking for a PFD, you never know what you're going to get. Despite all the warnings from the Coast Guard to always wear a life jacket, we know most people do not in hot weather and benign conditions. And if someone hands you one of those unsightly, uncomfortable, orange foam things, all bets are off.
But your own PFD should fit you well, and it should wear like clothing. If you wear it all the time, you'll get used to it and put it on automatically. This is especially important for women sailors, as many PFDs aren't designed with the upper body differences between men and women in mind; they're one-size-fits-men. But when you buy your own, you can try them on and find one that is comfortable, and bring it with you every time you sail.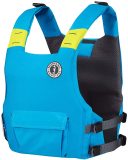 MUSTANG SURVIVAL Khimera Hybrid Dual Flotation Personal Flotation Device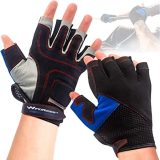 WindRider Pro Sailing Gloves – 3/4 or Full Finger
2. Sailing Gloves
For cold weather, sailing gloves are an obvious pick. But they're useful in warm conditions, too. They'll protect you from chafe, rope burns, and pinches. And a good pair will give you a tight grip on lines and sheets so you don't slip or need dangerous wraps around your wrists to get enough purchase to get a line moving.
It's all about your preference for finger length and style, and proper fit is a must. You don't want to bring your own pinch points with you or get blisters. But like a PFD, relying on what you find when you get on the boat isn't the best plan.
since treads for roads, basketball floors, or hiking trails won't stick well to a wet, tilted deck. And no one considers how a pair of cross trainers handle getting swamped with salt water.
3. Sailing shoes (with proper grip!)
Footwear may be the most important piece of clothing you pick out. You need something that's got a good grip, stays on your feet, and protects your toes.
The best modern sailing shoes are sneaker-style shoes with good air handling, water handling resistance, and deck gripping treads. Look for something sailing specific, 
A good deck shoe will:
Stay tied firmly to your feet. Leather "Deck Shoes" are actually terrible for anything but the most casual sailing for this reason. They're tough to keep on when walking on an angled deck.
Drain and dry if they get wet. Also, a big minus for deck shoes.
Breathe, so your feet don't sweat.
Stick well to a slick, wet surface.
Not mark up decks. White soles or a neutral gum color will get you invited back.
Protect your toes. Any sandals should be closed toe, so those jib cars and bits of deck hardware just hurt a little instead of crippling you when you stumble on one.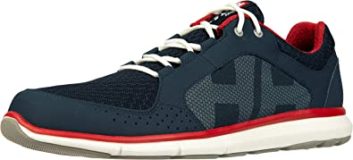 Helly-Hansen Mens Ahiga V4 Hydropower Sailing Shoe


4. Hat/Sunglasses
Squinting all day is miserable. So are sunburned ears. A decent hat and a pair of sunglasses will ease your comfort on the water, and can make you a better sailor.
Sun hats and baseball caps are the most popular, though you will see a few sailors sporting a bucket hat or other type. Hats with all-around brims protect your ears and some of the back of your neck, and shade your eyes. But any hat which keeps the sun off your face will help you see better and be more comfortable.
A good sun hat will have a chinstrap so it won't blow off, but consider a "hat stay" or retaining halyard with clips to keep your cap from blowing off. Even though every "hat overboard" drill is an impromptu crew overboard practice, they're very tough to find once they leave the boat. And you can't turn back in a race.
A good pair of polarized sunglasses can be an on-the-water game changer. Not only do they keep you from squinting, the polarization helps you spot wind puffs and changes on the water. They're indispensable for racing sailors, but even if you're not racing, it's nice not to get surprised by the wind.
Just like your hat, you don't want to lose your expensive glasses, so add a glass retainer. Pick one that's adjustable to keep the glasses tight to your head, but allows you to hang them from your neck when you don't want them.
5. Sailing jacket/pants (wind and spray proof)
Even on sunny and warm days, you can get a lot of spray and wind, especially if you're beating to a weather mark in a race. The forecast may be a perfect call for clear skies, sun, and temperatures in the eighties with fifteen knots of breeze. But if you're riding a rail in a race taking spray and lots of apparent wind, you will be cold, wet, and miserable if you forget your spray gear.
Light, breathable gear you can quickly pull over your clothes makes the difference between a fun day or racing or an afternoon of soggy, shivering misery. For colder conditions and bad weather, you need more serious gear. Before that, you will want a set of light pants and a sailing jacket for sailing all spring, summer, and fall because you never know what the weather will throw at you.
Fit for jackets and pants is as personal as your PFD. You'll want to try something out to make sure you can move in it. Breathable gear isn't cheap, so make sure it's comfortable.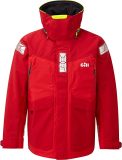 Gill OS2 Offshore Men's Jacket